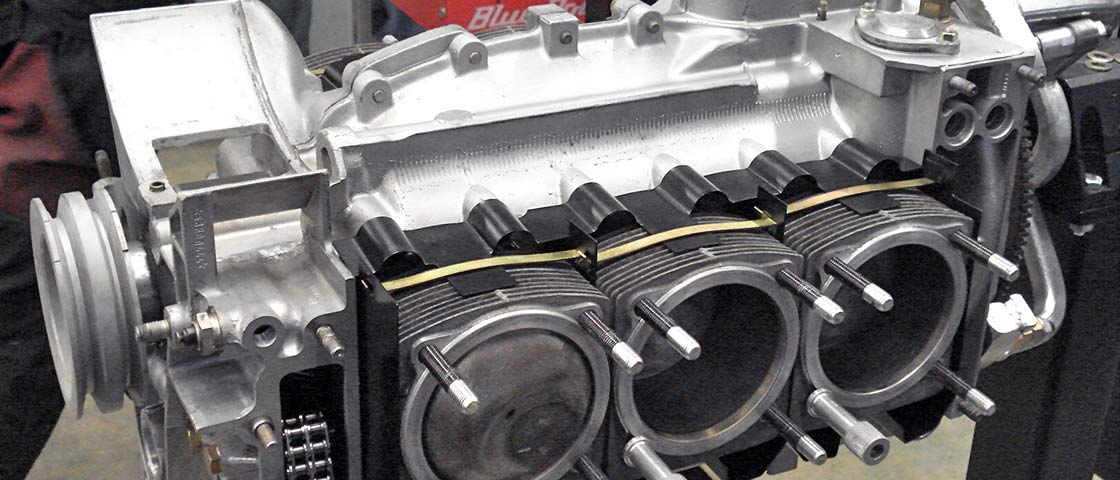 When engines are brought to us for rebuild we always invite the owner to be present when they are stripped down.  This allows our customers to witness exactly what we discover as the engine or gearbox is taken apart and examined.  The next stage is a detailed written estimate before the rebuild is progressed.  By doing this we have a shared understanding with our clients and both parties know what to expect with no 'avenues for excuses' later.
If we rebuild your engine it is a bespoke service and the rebuild is done using your refurbished parts or new parts supplied.  This sometimes means that rebuilds take more time but you do not get an engine back that is made up of other people's parts or parts that are not original to your engine.
We stock a large range of specialist engine parts both original Porsche and improved.  We only use parts that have been tested by us or developed by us as this is the only way the ensure reliability and long service.
An engine is only as good as its ancillary parts and all engines rebuilt by us are fully rebuilt including carburettors, injection pumps, distributors and dynamos etc.  Cosmetics are also important so all engines rebuilt by us will not only perform like a new engine they will look like a new engine.
Our road and race engines and gearboxes have been successful in events all over the world.  We have put a lot of time and effort into ensuring that our competition engines are powerful, flexible and reliable so that they give seasons of service rather than requiring a rebuild each racing season.
Whether you want a standard road engine, improved road engine or full race engine we can help with whatever you require from 356, Carrera 4-Cam to a 962.
A full photographic record is taken and old parts are kept until the owner takes them away or authorises disposal.
All engines and gearboxes built by us have a one year or 10,000 mile warranty.  The warranty is only conditional on you following our running in and servicing instructions.  We can only offer this warranty because we work to the highest standards and have the experience to rebuild them properly.
Our fully equipped workshop has all of the equipment and tooling you would expect including vapour blasting.